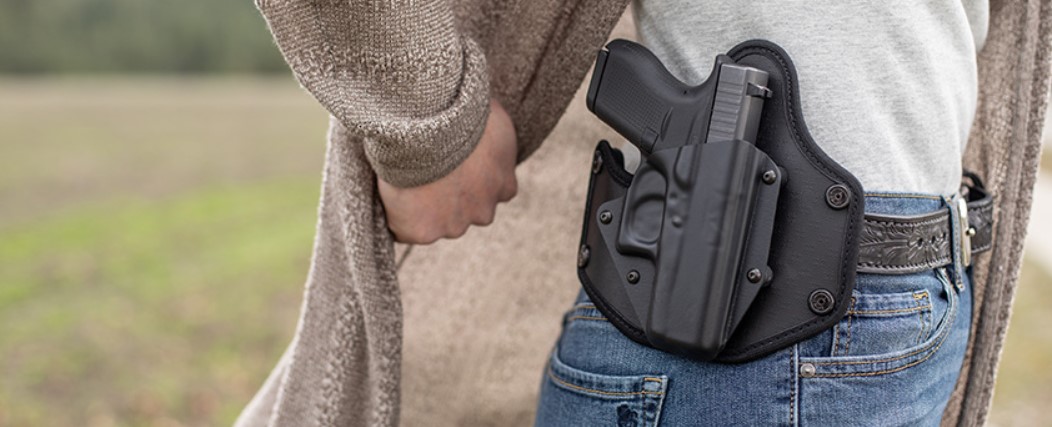 One of the most essential pieces of equipment you can own if you plan to carry a firearm is a holster. A holster allows you to carry your gun safely, makes it difficult for someone to take your weapon from you, and keeps your gun concealed.
One struggle women who conceal carry often have is finding a holster that is slim enough to wear under fitted clothing. Fortunately, there are several options for concealed carry holsters for women.
Holsters for Women
Around the Waist Styles
Outside the Waistband
If you're heading to the range or want your weapon to be visible to others, an outside the waistband, or OWB, holster is ideal.
Inside the Waistband
Inside the waistband, or IWB, holsters are worn inside the waistband of your pants or skirt. Smaller options are available for women who prefer more form-fitting clothing. These holsters clip to a gun belt.
Around the Leg Styles
Ankle
If you plan to carry a backup weapon, an ankle holster is a great choice. However, this type of holster only works if the lower half of your pants are loose-fitting, such as stovepipe or flare styles.
Thigh
A holster that straps to your inner thigh is ideal if you're wearing a skirt or dress and want to keep your weapon completely concealed. These holsters work best for compact firearms.
Around the Torso Styles
Belly Band
Belly Band holsters wrap around your torso and are a great alternative if a gun belt isn't an option.
Corset
The corset-style holster is similar to the Belly Band but provides a bit more shape to your figure.
Conceal Carry Bags
Purses, bags, and backpacks with concealed carry compartments are good options if you'd rather not have your weapon attached to your clothing.
There is a lot of responsibility when it comes to being a gun owner. Fortunately, many holsters are available for carrying your concealed weapon. These holsters allow you to carry your gun inconspicuously and, most importantly, safely.
Related Posts